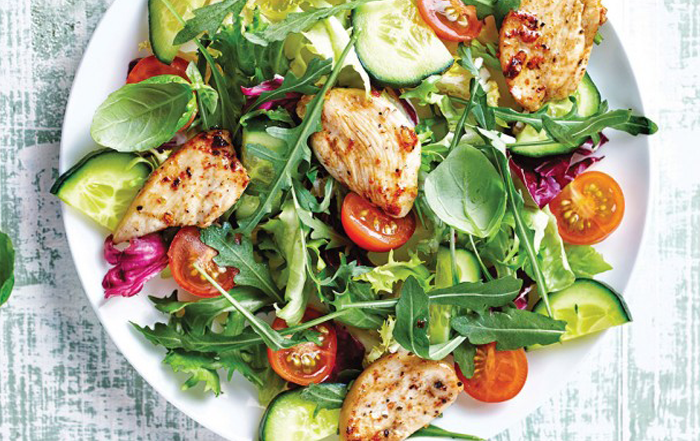 Easy and delicious salads to try this Summer
Indulge in all that summer has to offer by gathering around a table full of fresh fruit, veggies, and refreshing sides. Fill up on the season's finest with these family-friendly salad recipes suggested by the culinary team of the Royal Palm Hotel.
These meals are quick, easy, and seriously delicious, giving you more time for what really matters; summer cocktails!
Strawberry, Avo & Goat Cheese Salad  (Serves 4)
Ingredients:
300g rocket and watercress, rinsed and spun
2 ripe avocados, de-pipped and scooped
2 cups strawberries, rinsed, hulled and quartered
1 cup peanut brittle, loosely crushed
1 cup goats' cheese, crumbled
3 tbsp balsamic glaze
salt and black pepper, to season
For the balsamic glaze:
1/2 cup balsamic vinegar
2 tbsp brown sugar
Method:
For the balsamic glaze: heat the vinegar and brown sugar in a small saucepan over medium heat. Simmer for 6-8 minutes, stirring occasionally or until reduced and slightly syrupy. Remove, cover and set aside to cool.
Start with the rocket and watercress.
Scoop in the avo.
Scatter sliced strawberries.
Crumble the goats' cheese.
Smash and sprinkle the peanut brittle (be generous).
Season with freshly-ground black pepper and drizzle on your dressing.
Indian Chicken Salad (serves 4)
Ingredients:
4 Large skinless chicken breasts
1 heaped tbsp of masala powder
A bunch of coriander, stalks chopped and leaves separated
1 lime
150ml coconut milk
2 Heaped tbsp mango chutney
½ cucumber
100g bag of baby spinach leaves
1 small red onion, thinly sliced into rings
4 poppadums broken into chunky pieces
Method:
Lay the chicken breasts in between a double layer of cling film and bash out using a rolling pin until about 1cm thick. Rub with the tandoori spice mix and some seasoning. With a griddle pan over a medium heat, cook the chicken for about 3-5 mins on each side until cooked through.
To make the dressing, mix together the coriander stalks, lime zest and juice, coconut milk and mango chutney until you have a pourable dressing – then season. Arrange the salad ingredients on a big platter. When the chicken is cooked, slice it and add to the salad. Then drizzle on some dressing, scatter with coriander and poppadum pieces and serve.
Biltong, avo & Feta (serves 4)
Ingredients:
Tzatziki dressing –
1 cup of low fat plain yogurt
1-3 garlic cloves
2 teaspoons of fresh lemon juice
1/3  teaspoon of salt
½ cucumber, peeled
Salad –
½  cucumber, sliced
1 packet rocket and watercress
1 avocado
1 yellow pepper, sliced
1 punnet cherry tomatoes
1 ripe mango, sliced
200g moist beef biltong, sliced
60g feta cheese
Method:
Toss together all the salad ingredients and serve the salad with tzatziki dressing.
And if you still don't have time for these quick meals, head on to the Royal Palm Hotel. The hotel boasts some real fine dining, with their very own onsite signature restaurant, Thyme@Royal Palm, providing delicious dishes in a luxurious environment – the perfect place for a date or to get together with friends over summer cocktails.
For bookings or more information, call 031 581 8000 or email info@royal-palm.co.za